WWII Imperial Japanese Toyama School Leader Badge, Martial Art Instructor Reward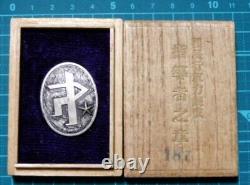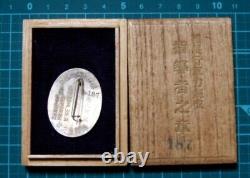 Dive into a rich slice of history with this Imperial Japanese Army Toyama School National Tactical Leader Badge from World War II. This badge is a rare find, showcasing exquisite craftsmanship reflective of the era. It was awarded to instructors skilled in various combat arts including kenjutsu (swordsmanship), sojutsu (spear fighting), military swordsmanship, and bayonet techniques.
The Toyama School was a highly esteemed military academy in Japan, responsible for the training of officers and soldiers in a broad range of martial disciplines. The wearer of this badge would have been an elite instructor, responsible for training the leaders of the Imperial Japanese Army.
This beautiful badge features an embossed silhouette of an instructor and the military star of the Toyama School. The name of the instructor is also inscribed on the badge. Complete with its original box, this badge is an invaluable addition to any World War II memorabilia collection, or a meaningful gift for history enthusiasts.